In the ever-evolving digital landscape, safeguarding sensitive data has become a critical imperative for organizations worldwide.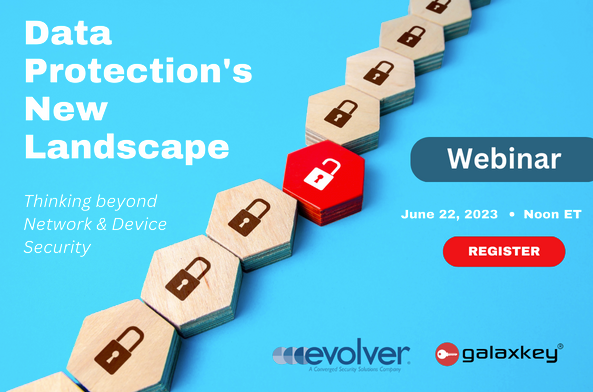 As the risks of data theft and security breaches continue to escalate, decision-makers face mounting challenges in protecting their valuable assets. Recognizing the importance of empowering the professional cyber community, Galaxkey is excited to announce an upcoming webinar in collaboration with our esteemed partners, Evolver. Together, we will shed light on the pivotal role of data protection within a comprehensive security framework.
Webinar Details:
Date: June 22, 2023
Time: Noon ET
Duration: Approximately 1 hour
Webinar Overview
This hour-long session is designed to equip people from all industries with practical strategies and well-researched insights into the evolving risk landscape of data theft. You will gain invaluable knowledge and actionable solutions to strengthen your organization's cyber defenses and enhance data protection.
Key Discussion Points
Making your organization an unattractive target for attackers

Gain a deep understanding of the motivations and methods employed by cybercriminals.
Implement proactive measures to minimize the risk of being targeted.
Foster a robust security culture within your organization.

Integrating data security into your existing tools:

Explore seamless integration of data security within popular tools like Outlook and Cloud Storage.
Leverage cutting-edge encryption techniques to shield sensitive information.
Discover best practices for secure data sharing and collaboration.

Automating regulatory compliance through data security:

Recognize the importance of complying with industry regulations and data protection laws.
Explore automation solutions that streamline regulatory compliance processes.
Mitigate legal and financial risks associated with non-compliance.

Addressing sensitive data handling:

Navigate the challenges of handling personal account data, health records, and international data sharing.
Implement robust data classification and access control measures.
Ensure secure data transfer and storage practices.
Galaxkey Security Platform
During the webinar, we will provide a short demonstration of Galaxkey, our advanced security platform that prioritizes data protection through state-of-the-art encryption techniques. This will be an excellent opportunity to explore the features and benefits of Galaxkey, which can significantly enhance your organization's data security posture.
Join Us
Don't miss this exclusive opportunity to learn from industry experts and connect with like-minded professionals in the field of data security. The webinar welcomes professionals from various industries, including law firms, corporate businesses, education technology groups, and state & local government departments.
Take action now and secure your spot for this must-attend webinar by registering HERE. By joining us, you will proactively safeguard your organization's invaluable data assets.
Remember, in today's interconnected digital landscape, data protection is not merely an option; it is an absolute necessity. We look forward to seeing you there!