Managing your files and documents should be simple, and we're working hard to ensure that we make your life as easy as possible. All whilst keeping your data safe, secure and out of harm's way.
Our latest releases on Galaxkey Secure Workspace will make everything that little bit easier. They'll improve communications and ensure that you have vital information at the tips of your fingers.
So, without further ado, let's dive in and show you what we've done.
Know exactly how much storage you've used and how much you've got left
We understand that nothing is more frustrating that realising that your Secure Workspace is full. You're busy enough without having to figure out how to create more room in your workspace to store important information. We also know that frustration leads to human error. Not storing sensitive data securely can be disastrous for a business, and if you're short on time and have run out of space in your Workspace, it would be easy to be tempted to keep it in a less secure area. Not good.
Keeping things simple and easy, making the information you need obvious and available, helps ensure that frustrations and shortcuts don't happen.
That's why we've added a handy progress bar that shows you exactly how much storage you have available. You'll know in plenty of time when you're running low on storage, and you'll be able to take evasive action – whether that's doing a little housekeeping on those files that are already stored in your Workspace or whether it's increasing the total amount of space that you're allowed.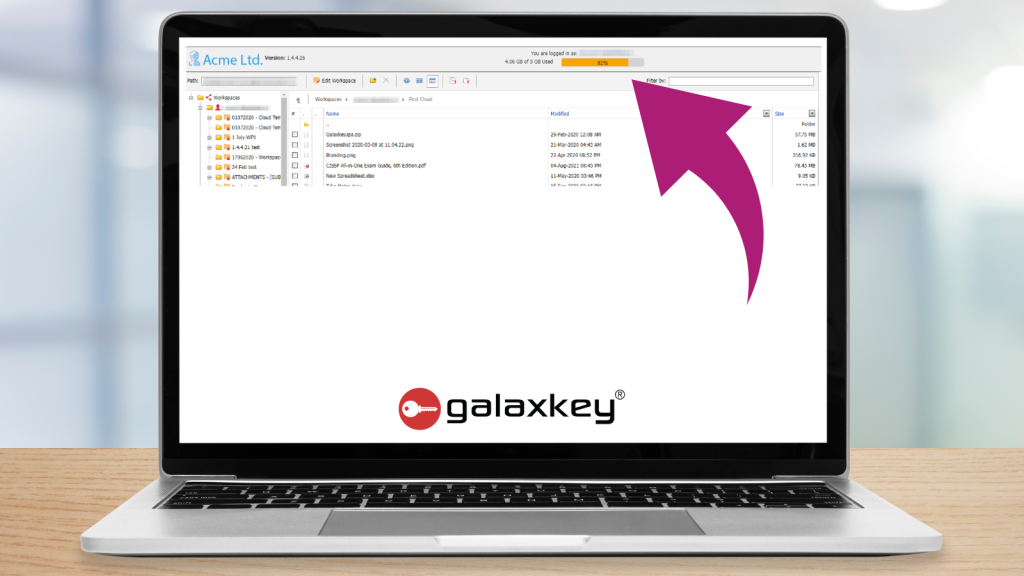 Get notified when you're added to a Secure Workspace
Some organisations have many hundreds, or even thousands, of Secure Workspaces. If you work in a business like this, you'll know that it can be pretty difficult to know which areas you have access to and which ones you don't.
To make life just that little bit easier for you, we've added a new feature that will mean that you now receive an email notification when your corporate administrator adds you to a workspace.
It's a simple development that will allow you to stay informed and on top of your work.
We hope that you're as excited about these developments as we are.
If you don't yet use Galaxkey Secure Workspace and would like to know how it could work for you, get in touch with our team. They'd be delighted to show you around and discuss how you can use it in your business.