At Galaxkey we like to make encryption straightforward
The best encryption is the one you don't even know is there, working diligently in the background to ensure your data remains secure and in your control. With Galaxkey installed you can relax, your data is protected using the most up to date and complex encryption currently available.
Only Galaxkey offers complete end to end security with additional functionality
Our Email platform provides a seamless, secure communication in a simple, convenient way that is compatible with Outlook, iOS, Android and Windows. With one-click encryption providing efficient and smooth operation you can be assured your emails and files are sent securely at rest and in transit providing a safe working environment anywhere and anytime.
Email Encryption with one-click convenience
Classification
Our classification feature allows the user to mark emails and files with a custom classification status providing an excellent way to prioritise an emails importance helping improve your data management.
Mail Time-Out
Every email you send can be configured to have a window of time for accessibility. From 5 minutes to 5 months your data is only accessible for the time you have permitted. Helping to enforce retention policies that are important for compliance such as GDPR
Revoke access to emails
Ever sent an email by mistake? With Galaxkey's one-click revoke button you can always stop access to your email and attachments immediately providing complete control and peace of mind.
Notifications
Has your email has been delivered? Nobody likes read receipts, with our digital notification feature your recipient can only view your email once they have confirmed acceptance. Providing Proof of Delivery to the intended recipient, your very own recorded delivery service.
Digital sign emails
A digitally signed email assures the recipient that the data has not been tampered with and originates from the intended sender. This anti-spoof feature ensures data integrity and non-repudiation.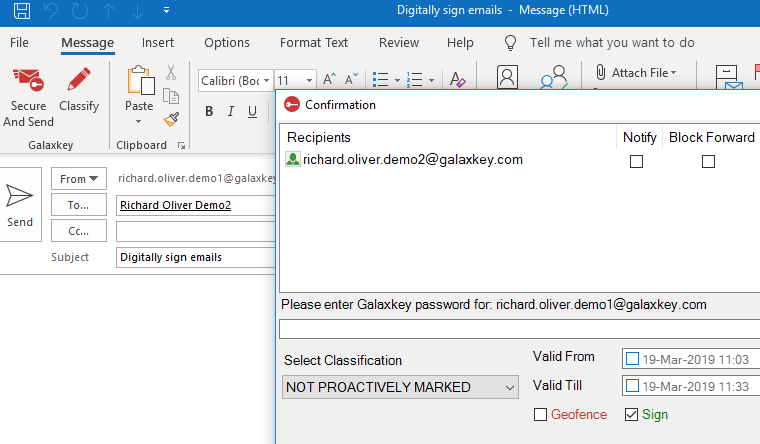 Authorised Data Distribution (ADD)
Galaxkey provides total control of how you distribute your emails. With ADD you can now control your flow of data and by whom. You can block an email and attachment from being submitted onwards giving you complete control at all times. Receive notifications at all stages for your permission providing effective data management at all times.
Policy Management
Galaxkey provides complete customisation depending on your specific compliance requirements. Want emails stopped if they contain keywords or phrases? With Galaxkey you can Set rules and policies to protect your data and meet specific compliance requirements. With Policy Management Galaxkey can check every email to ensure complete your GDPR compliance.